Back in November 2015, a small group of local residents, along with developmentplus, began planning a special celebration event.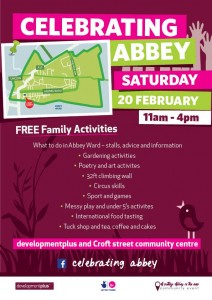 Many meetings and much cake-eating later, the event, called Celebrating Abbey, was delivered on a mild Saturday in February, and welcomes more than 150 local residents through the doors.
The event showcased the work achieved by developmentplus as part of a Reaching Communities lottery grant – the Putting Abbey on the Map project. This supported many free health and wellbeing workshops and training for the local community. A gardening group and poetry group also arose from this project, and many links were made to community groups, that helped to raise awareness of the positive activities and volunteering that happens in the Abbey Ward of Lincoln.
Activities on the day, were aimed at families, and ranged from building bird boxes and planting seeds with the gardening group, to messy play and badge-making with the local children's centre and toy library. The poetry group gave readings of their poetry; young people could enjoy a robot table-tennis game, in addition to a rodeo bull, circus skills and face painting.
In all, 22 local groups came to promote their activities and to meet and make new contacts.
We were also delighted that Lincoln City FC offered a VIP trip to the football ground, to meet the players. This was won by a pupil from Monks Abbey Schol. A tuck shop, cafe and international food-tasting session was also run by local groups, who will re-invest their profits to support community activities over the next year.
The event was filmed, and we look forward to sharing this with you, after it is edited. But in the meantime, here's a selection of photos from the day. More can be seen on our Facebook page, click here
[blog by Clare Bryan, Development Worker and Volunteer Coordinator]
Community art
Facepainting
Seed planting
Community art
Fun in the photobooth
Community art
Rodeo bull
Community food
Fun in the photobooth
Circus skills
Fun in the photobooth
Fun in the photobooth
Community art
Poetry readings
Gardening project
Table tennis
Gardening project
Inventive gardening