Well as we get ever nearer to December 25, one by one offices across the city are winding down to the holidays, so what better time to look at what has happened over the past year and then a little look forwards too.
Firstly, lets look at the most recent events; the Christmas Decorations Workshop and the Carols in the Arboretum.
We arrived at the Arboretum on Thursday afternoon to see the Art Ninja invasion had already begun with lots of festive decoration delicately wrapping the bandstand. This was a good start to what would become a very cold evening of arts and crafts, but Mia's bright ideas and shiny materials captured the attention of many young people and children and gave ample decoration
for our outdoor Christmas trees, plus lots more! 
The Decorations Workshop led nicely into the evening where the community came together for the Carols in the Arboretum. We have to say a big thank you to Lincolnshire Hospital Band and Ross from the Baptist Church for joining us, and to the many people who came along and sung carols with us. The evening was a great success and couldn't have been done without the help and support from our partner organisations; Abbey Access Training and Green Synergy.
Looking a bit further back now; lets start with some coffee morning envy – we put together 3 in the latter part of the year… and all with their own sweet treats!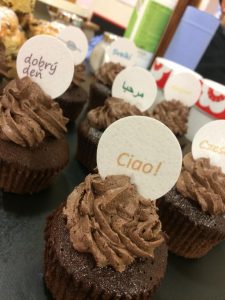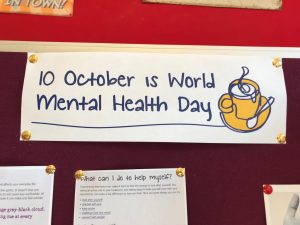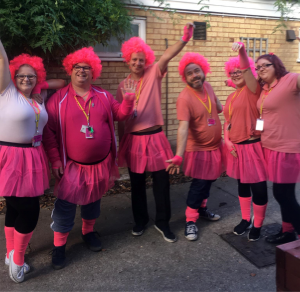 Our 3 main coffee mornings all happened somewhat closely together; World Mental Health Day, Wear it Pink Day and World Hello Day. Bustling with people, the mornings all had their own personalities – World Mental Health Day invited mental health groups to come along and meet new people, a task not often fulfilled by someone with severe mental ill health. Wear it Pink Day was raising awareness of cancer, and specifically breast cancer, by wearing as much pink as possible while donating through different activities. And, World Hello Day had chocolate cakes with participants and visitors, oh and a visit from the Major of Lincoln!
And we had a rather large selection of community events we took our stall to as well! Here's just a few photos of those events, do you remember where they were?
And a little look to the future…
It seems we are starting another project! With the new Research Project now getting underway, we have just announced our new project for 2019 – the Better Together Project, (check out our website for the initial information on that one). Taking on 2 new people in January, we look forward to working alongside Abbey Access Training and Green Synergy in helping people to overcome barriers to move forwards in life.
The Neighbourhood Working Project has new come to an end, and with the neighbourhood boards looking stronger, we look forward to seeing what comes next for them.
And the STEPS
and Bridging the Gap projects are going from strength to strength with the hope of some growth with them too.
Our last batch of wellbeing courses went down a treat with our participants, attracting a good number to each of the 4 sessions. And we also look forward to a bigger selection of city wide sessions coming up, some with a particular focus on crafts.
We look forward to seeing more of you in 2019 and wish you a Merry Christmas and Happy New Year!