Better Together is a collaborative effort between three Lincoln-based organisations: developmentplus, Abbey Access Training and Green Synergy. Together, the three charities are dedicated to empowering individuals who are experiencing poor mental health to fulfil their potential.
Starting in June 2018, Better Together was designed to address a gap in local provision for community-based mental health support. The aim is to complement clinical services and act as a steppingstone to more formal vocational training programs. Each year the project works with up to 80 people.
The program offers a tailor-made, supportive, and flexible approach to improving personal health and well-being. Overcoming barriers and moving forward in life can be challenging, which is why Better Together provides a comprehensive range of services. These include mentoring, coaching, therapeutic activities, volunteering, training, work experience, and support into employment.
One of the key aspects of Better Together is the partnership between the organisations. Each brings distinct and complementary specialisations to the table, including community/personal development, health/wellbeing, vocational/employability training, sustainability, and social/therapeutic horticulture. Combining this expertise provides a holistic approach to mental health support and personal development.
For developmentplus, Clare Bryan, Lead Development Worker and Stuart Couling, Development Worker play a crucial role in the partnership by providing one to one mentoring support. Referrals come from both agencies and self-referrals, allowing individuals to access the activities offered through the partnership. They take the time to build trusting relationships with the people they work with, getting to know them and supporting them in achieving better well-being through their self-defined goals.
The average length that the team work with someone is six month, but even after they have completed the project, they can continue to access coaching and support for an additional three months. They are also encouraged to maintain connections with the groups they have joined, offering ongoing friendship and support. By the end of their time on the Better Together programme, it is hoped that people will have improved personal well-being, enhanced skills and confidence, increased involvement in their local community, and expanded supportive networks.
Better Together Art Club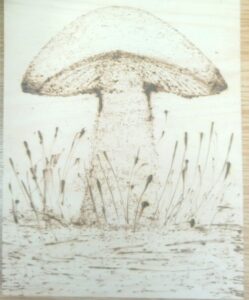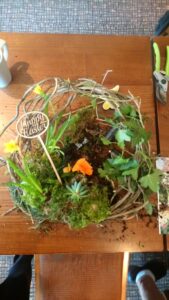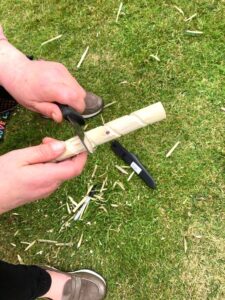 Over the last eighteen months as part of Better Together, Clare supported by Laura Harris, Project Administrator, have also been running a regular art club specifically for adults of all abilities who enjoy making and creating things and sharing their skills with each other. The group meets every two weeks, and the focus is around them sharing their skills, building new skills, experimenting with materials and trying out new things as well as an opportunity for new friendships. Over the last few months the group have tried wood whittling, botanical art, needle felting, pyrography and many more.
Wind Down Wednesday
There is also Wind Down Wednesday, which focuses on well-being led by Stuart who is also a mindfulness teacher. He has been able to support people who attend to build their wellbeing toolkit, incorporating meditation and mindful activities they can practice in their own time. Those attending have taken part in Yoga, mindfulness and a Gong Bath.  Most recently there was the opportunity to try Shamanic Drumming when Tereza Darmon took the group on a guided journey to work with nature for healing using the powerful energy of drumming.
Those that attended really enjoyed the experience with some commenting;
'I enjoyed today with Tereza and learnt a lot about Shamism and to be one with nature. Enjoyed the energy and vibes within the group and learning something new.'
'Truly fascinating, educational and astonishing session. Hope to see Tereza again.'
'Wow, that was a wonderful session, I really enjoyed today, very fascinating! Would love to have some more sessions wit Tereza'.