After our very successful day at Lincoln Pride last year where we met some fantastic people we are excited to be attending again on Saturday 19 August 2023.
Pride events takes place across the world and are a wonderful celebration of diversity and inclusivity but is also an opportunity to promote wellbeing and self-love. So with this in mind, this year the team from developmentplus will be at Lincoln pride with an activity on our stall that encourages attendees to send themselves a postcard, with a sentence starting with – I love me because….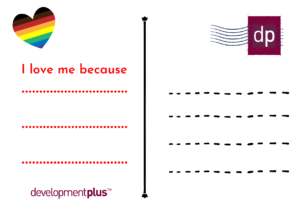 We will provide postcards for people visiting our stall to write down a sentence starting with I love me because…… and send to themselves or someone else they think would benefit from knowing that they are loved. After Pride will be pop all the completed postcards in the post to send out to the individuals.
We hope that the postcards will serve as a reminder to the people taking part of the importance of appreciating and loving ourselves. With the constant pressures of social media and societies expectations, it's easy to forget about the positive aspects of ourselves. We want to remind people that they are unique, special, and deserving of love and respect.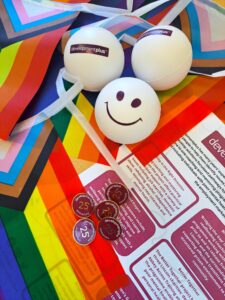 We will also have lots of leaflets and information about all the great projects that we have going on in Lincolnshire at the moment that may be able to support you or someone you know.
Are you ready to spread some self-love? If so, come and find us at Lincoln Pride on Saturday 19 August 2023 in Tentercroft Car Park, Lincoln.
To find out more about this year's Pride events in Lincoln visit www.lincolnpride.co.uk