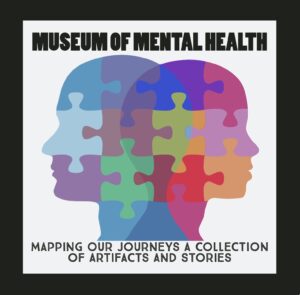 THE MUSEUM OF MENTAL HEALTH – Saturday 17th September 2022
A newspaper and event celebrating local creativity in the community
Being creative and being active- connecting into our local communities has known benefits which support and sustain out mental health and wellbeing. The Museum of Mental Health promotes the message that getting creative is for everyone and all abilities whether you cook, paint, draw, game, craft, write poetry, tell stories – whatever your passion is.
Our experience is that there's lots going on around Lincoln with people quietly making and being creative, opening up spaces to meet, offering opportunities to have a cuppa, socialise, learn new skills and grow together.
We want to raise awareness of these groups and the people who run them, the local organisations and initiatives that bring people together in safe environments to support their wellbeing.
We have created a newspaper full of information and stories and peoples creative work which will be launched at a FREE community celebration event on Saturday September 17th at Bridge Central from 11- 3pm. Alongside food and music you can try activities for yourself and meet people from over 17 organizations who deliver community activities.
The newspaper and event are organised by development plus who has been part of the local community for over 25 years and is part of Creative Summer. This is a programme of memorable community arts events from across Lincolnshire, supported by The Collection and Usher gallery Lincoln one of the arts organisations that make up Lincolnshire One Venues and funded by a grant from Esmée Fairbairn Foundation.